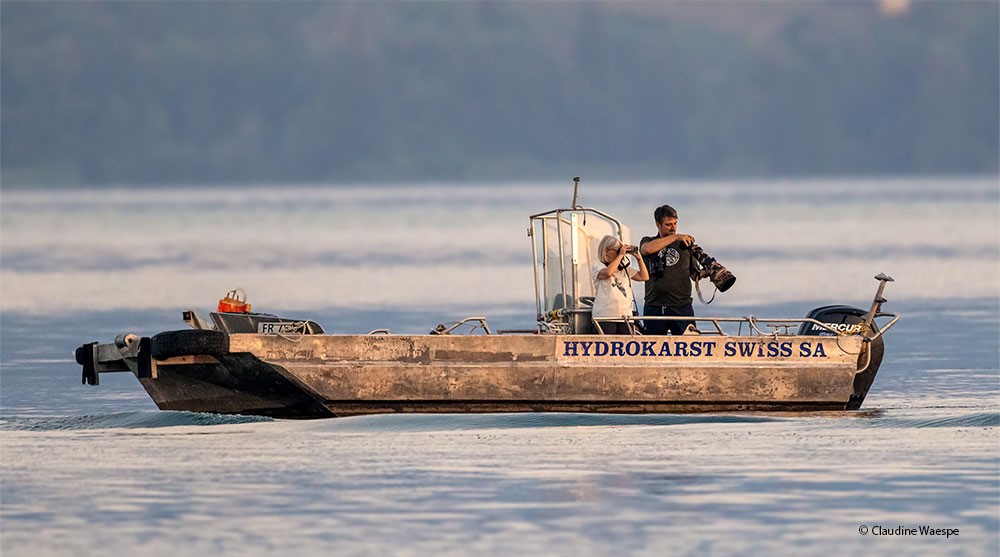 Our second "Osprey Morning" of the season, on June 19, resulted in at least six different Osprey observations: a record, both for their number seen in a single day at this time of the year, as well as for the temperature (the highest ever for June in the region, reaching locally up to 37°). Great thanks to the 48  volunteers who baked in 26 sites for the cause!
The day started out well, with Arthur (F12) at Hagneck and Flamme (ex-KF6) along the Doubs River, turning up at 5:30 and 6:40 respectively, and then sticking around for the rest of the morning.
The third observation was a blue-ringed male (very likely Taurus PS7, although his ring could not be read), who arrived at 7:52 to the Fanel Nature Reserve. He remained on-site until at least 10:50, when the heat drove the last observers to find a well-deserved cool drink. Apart from catching a fish, washing his feet after his meal, and finally taking a bath, he remained quietly perched on some dead trees. A typical example of how the species can spend hours doing almost nothing, making it often difficult to spot.
Then at 8:10 another Osprey was seen from Chevroux, stealthily flying over the Grande Cariçaie towards Portalban: very likely Olympe (F28), already seen the day before in the same area. However, he was remarkably discrete on the big day, since other observers at Gletterens, Portalban, and on two boats cruising off-shore were not able to see him.
In addition to these four males, there were also some nice surprises elsewhere. At 6:40 an Osprey was seen flying upstream over the Wohlen lake, but impossible to see if it was ringed. This is the first time the species has been seen in June in this very favorable habitat, 16km east from Bellechasse.
At 9:35 a likely Osprey was seen (for just a few seconds) flying over the Aar River near Altreu, at 33km to the north-east of Bellechasse. An observation post was included for the first time in this area not far from Solothurn, following the sighting of an Osprey there ten days before. In addition, an Osprey carrying a fish was seen at 9:00 at the Inkwilersee, a small lake 16km east of Altreu (and 46km from Bellechasse). Could this possibly be the same bird, or two different ones?
In any case this second Osprey morning for 2022 was a great success. Now we still need to clarify the identity of some of them, and to determine whether they are territorial or nomadic birds. In the meantime, any observation of the species in the region (noting the time, and if possible with a photo) is always welcome!