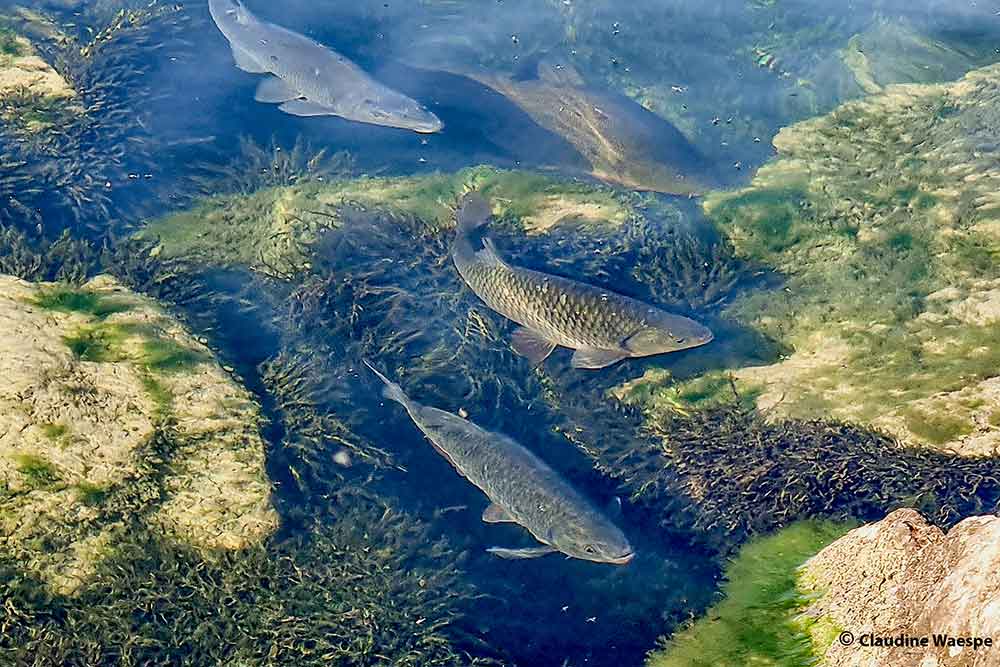 On Sunday May 29, our first "Osprey morning" of this year, 57 participants got up before the crack of dawn to monitor 29 sites where Osprey might fish, for example at Sugiez at the Lake of Morat (photo above by Claudine Waespe).
Two of our "sure bets" were observed: Arthur (F12) made a spectacular display flight at the Lake of Bienne at Hagneck, and Flamme (ex-KF6), did the same along the Doubs River just across the border. Taurus (PS7), however, remained remarkably elusive, proving once again how good this species can be at escaping detection. Two other Osprey were seen in the Grande Cariçaie protected area at the Lake of Neuchâtel. One of them was certainly Olympe (F28), his identity being confirmed the following morning thanks to photographs by Pascal Rapin. The other was spotted at about the same time 6 km away by Jean-Luc Holweger (from his sailboat), but too far to see if it was ringed. Was it Taurus on an excursion, or maybe another yet unidentified individual ?
With a total of four Osprey seen, we are very pleased with the result. Especially as Olympe seems to be establishing a territory in the Grande Cariçaie, just where two unringed females stayed for an extended period in May (and they may still be around). We cannot thank the participants enough for their enthusiasm and commitment on a rather cool morning for the season. While not everyone was lucky enough to see an Osprey, we were overwhelmed by the nice messages and reports received from all the teams.
A second Osprey morning will take place on Sunday 19 June. Anyone with binoculars (and ideally a spotting scope and/or telephoto lens) interested in participating can contact us here, and there will certainly be more surprises!