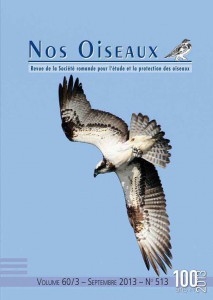 More articles
 "La Réintroduction du Balbuzard Pêcheur Pandion haliaetus en Suisse romande" appeared in the September 2013 edition of Nos Oiseaux. While the article is in French, it explains everything about the project, provides an overview of Osprey biology and ecology, its historical evolution, conservation status and various reintroduction projects taking place elsewhere in Europe.
Available for download here.
Nos Oiseaux members can download the entire fascicule (or any other) from www.nosoiseaux.ch.