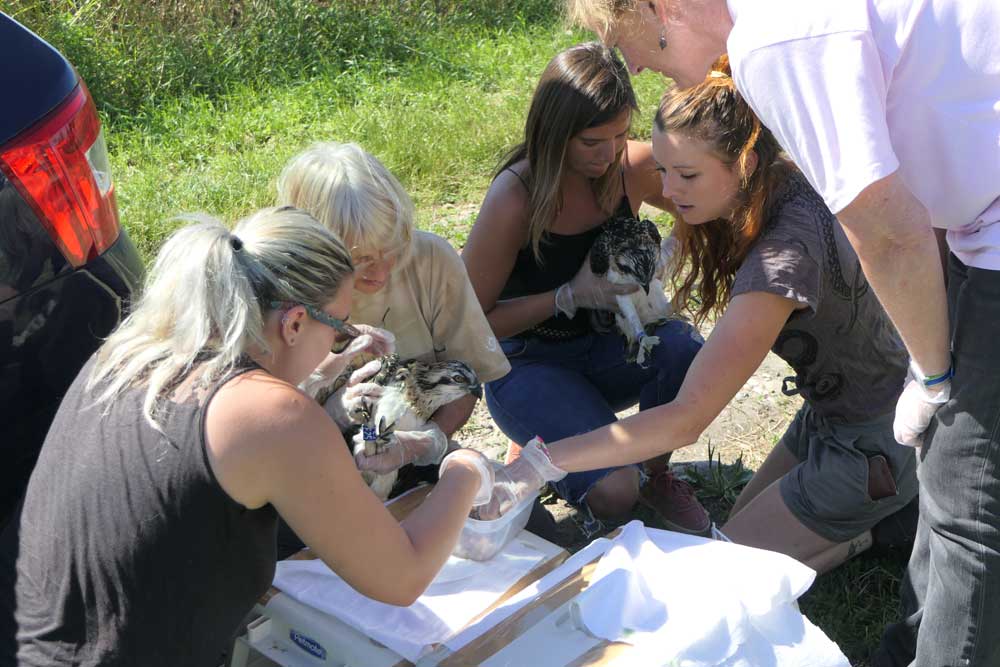 Wendy Strahm, project coordinator.
Cyrielle Boudon & Marine Brunel, Osprey wardens.
The volunteers who spent at least two weeks with us during the summer of 2020 (Océane Cordoliani, Christophe Chaigne, Niels Friedrich, Martine Guex-Meier, Alba Hendier, Sven Henrioux, Johnny Kursner, Denis Landenbergue, Florian Meier, Catherine Robert, Jean-Luc Simon and Marièle Zufferey), as well as those who helped when needed (Solange Chuat-Clottu, Emile Curty, Christelle Mugny, Pascal Rapin and Christine Rast). A big thanks to all!
Michel Beaud, President of the Osprey Project Steering Group; Adrian Aebischer, Didier Gobbo and Pascal Schöpfer, for all their commitment and invaluable support.
For the collection and transport of the young birds, Mario Firla, Holger Gabriel, and Daniel Schmidt in Germany; Rune Aae, assisted by Signe Lunde Aae, Anne-Marie Austad, Jan Ingar Båtvik, Lennart Fløseth, Nikolai Aarseth Krøgenes and Sondre Krokeide in Norway.
Special thanks to Ludovic Bourqui and Nora Frantschi of the Centre de Réadaptation des Rapaces, as well as to David and Heidi Meyer who monitored the first breeding attempt of Mouche (PR4) in Moselle.
Thanks also to the professional fishermen Claude Delley, Pierre Schär & family, and David Francioli for all the fish that they generously provided for our birds.
To see almost all the team in action, click here.