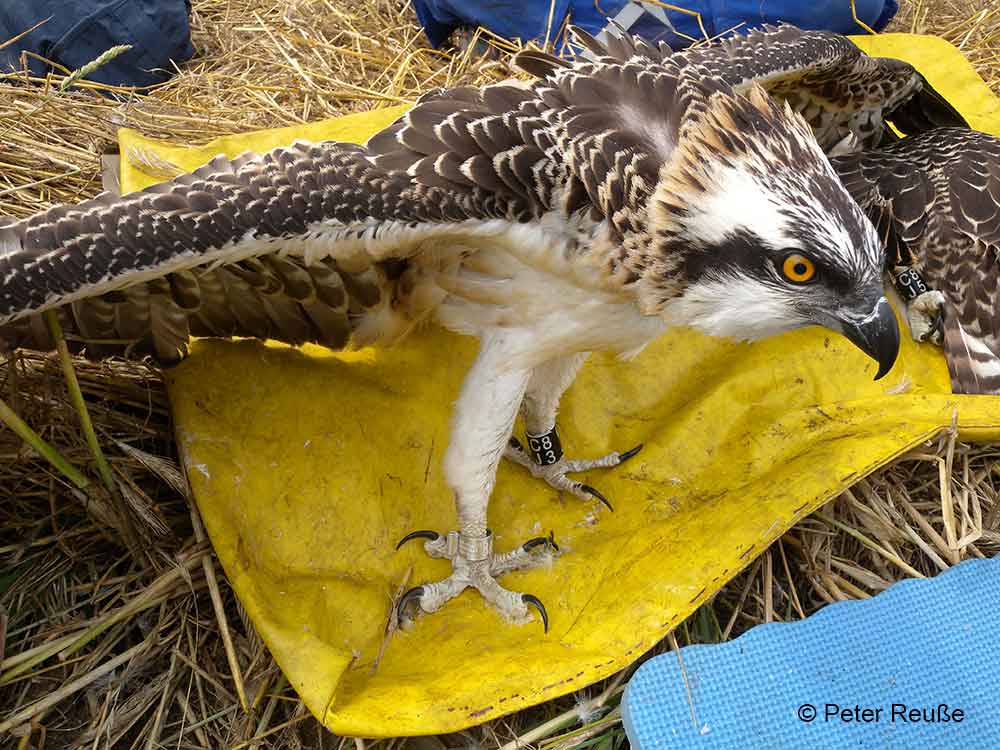 The Osprey season draws to an end and "our" birds have apparently all migrated, while a few others from further north are still delighting birdwatchers at some classic stop-over sites for the species.
Arthur (F12) appears to have left Hagneck a little earlier than in past years (last seen on September 1). Olympe (F28) was last spotted in the Grande Cariçaie by Martin Zimmerli on August 29, and Racine (F29) likely in the Fanel and Chablais de Cudrefin reserves on September 5 by Jean-Claude Muriset and René Gerster (final dates to be confirmed later, after we check a few camera-traps).
Concerning Taurus (PS7), it is still not yet certain whether he returned this year. Although a few visual sightings may indicate that he did, there has not been any record of his blue ring code this season. As for Flamme (ex-KF6), tracking him in the Hauts-Doubs has been a serious challenge since he lost his blue ring. Ever since a male with a metal ring on the left leg was spotted during this year's first Osprey Morning,  his presence has been suspected in the Plateau de Frasnes area, where an unringed female spent a good part of the summer (even seen flying with a male on July 23).
As for our females which have bred outside of Switzerland, latest news from Moselle was when Dominique Lorentz saw one of the three juveniles of Mouche (PR4) on the nest on September 12, while in Baden-Württemberg Daniel Schmidt tells us that one of the two young of Chronos (ex-PS9) was still observed on the nest on September 7.
In Switzerland, the past few weeks have been rich with observations of migrating Osprey. It is common that juveniles pause for several days (or sometimes even weeks) at places where they can train and improve their fishing skills before continuing further south. This year for example in the Flachsee area (Canton Aargau), many people have been admiring CJ83, a young female ringed by Peter Reusse in the German province of Sachsen (see photo of her ringing above, on June 30). Young Ospreys have also stopped at Klingnau (Canton Aargau), Chavornay (Canton Vaud), Verbois (Canton Geneva) and a few other places. Such birds are always a joy to watch, as they are often less shy than adults and sometimes need to dive many times before they manage to catch a fish.