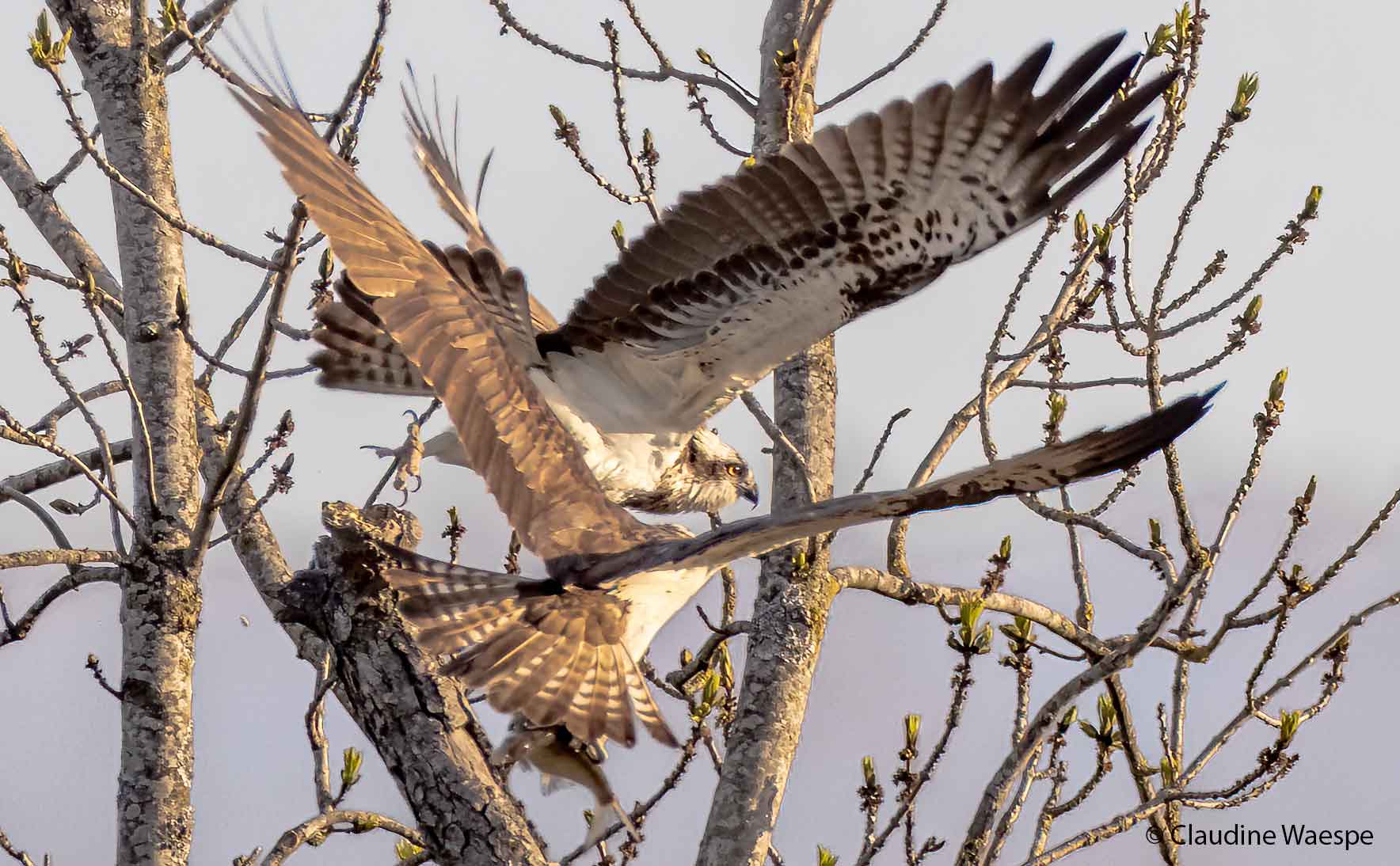 In addition to our "mystery male" that returned to the Upper Doubs on April 3, both Arthur (F12, born in 2018) and Taurus (PS7, born in 2017) are back in the Trois-Lacs region. Arthur was first observed at Hagneck on April 7 by Fabian Grossenbacher, exactly the same date that Michel Cattin saw him back in 2021. Michel was determined to be the first to spot Arthur back again this year, but he skipped April 7 and 8 due to terrible weather, so of course that was when Arthur turned up (bad luck Michel)! This spring, Arthur has already been seen three times with another Osprey: a probable female on migration on April 17 (with a metal ring on her left leg), an unringed passing male on the 18th, and another unringed male which he promptly chased away on the 21st (photo above by Claudine Waespe). While he doesn't appear to have found a mate yet, there is still hope .
Taurus was confirmed back on April 12, although he had probably returned a few days earlier. While he has been busy preparing a nest, so far his partner from last summer, AB13, hasn't been seen back. Will she eventually return, or will he try to find another female?
Radar (F16, born in 2019), was photographed twice last year, in Switzerland on May 3, and in Belgium on the 14th. In theory he should return this spring, but so far he hasn't been spotted.
Our females, on the other hand, are busy preparing for the next generation. Mouche (PR4, born in 2016) and her partner AM06, as well as Plume (F02, born in 2018) and her partner BE63, were already back last month at their nests in France and Germany respectively. And Daniel Schmidt has just informed us that Plume is incubating at least two eggs. Other good news is that Rafale (F14, born in 2019), who was noted once on a platform in Germany last summer, was photographed on April 7 together with an unringed male, on another nest in north-east Bavaria.