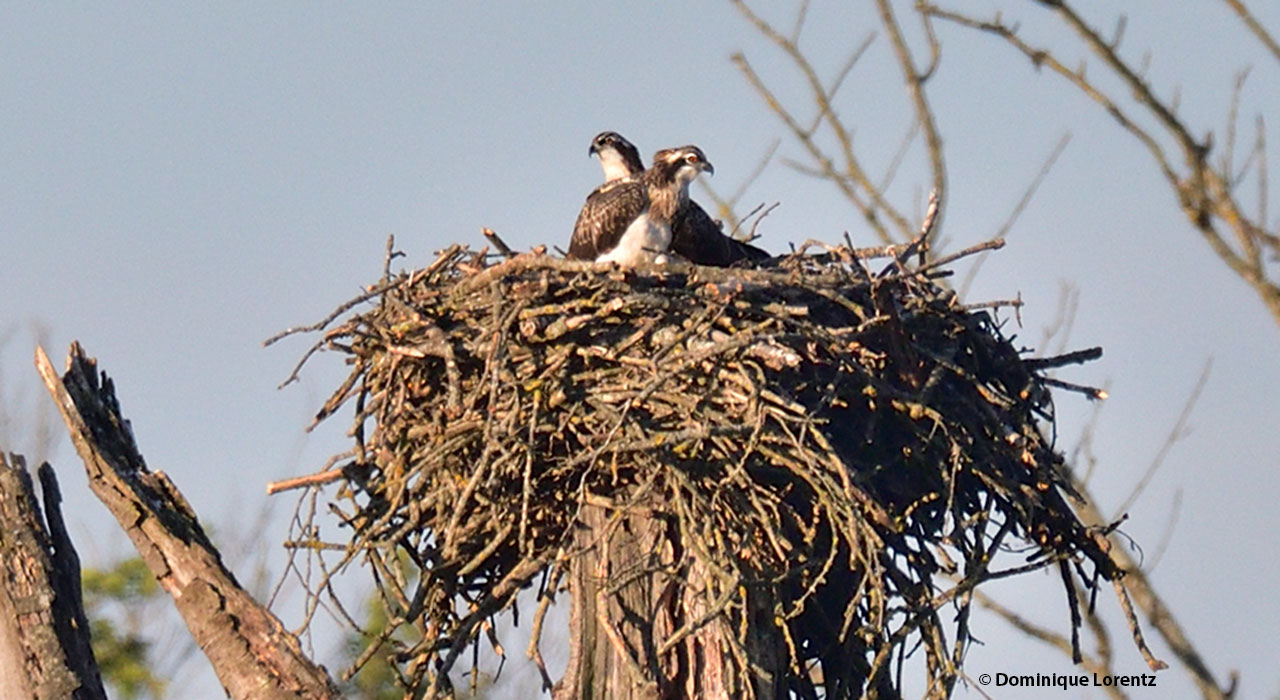 This year Mouche (PR4) and her partner AM06 have once again raised two beautiful chicks in the French department of Moselle (pictured above). Dominique Lorentz told us that the first one fledged a little earlier this summer than in 2021, on July 5, and the two youngsters were already flying very well on the 12th.
Plume (F02), on the other hand, was less lucky than last year in north-eastern Bavaria. According to Daniel Schmidt the season had started well, since she was photographed starting to incubate on April 17 and had laid at least two eggs. However, her nest (with one unhatched egg) was found abandoned on June 14, for reasons that are unknown. Also in Bavaria, Rafale (F14), on her second year back, was photographed on April 7 on a platform together with an unringed male, but it appears that another female finally bred on that nest.
As for the four territories of returning males that we have been able to find so far (Taurus PS7, Flamme ex-KF6, Arthur F12 and Olympe F28), the first three (aged 5, 5 and 4 years old respectively) have been actively building nests. Taurus and Arthur brought many branches to platforms specially installed for them, with the latter going even one step further by building a "secondary residence" not far away from his "principal" nest. Flamme, on the other hand, chose to build his own nest directly on top of a dead spruce, which was later broken during a violent storm, illustrating the value of providing stable platforms to facilitate the installation of the species. As for Olympe, even though still very young (just 2 years old), he is already showing some courtship behaviour.
Other news will follow by the end of August/beginning September when our birds start to head south. Until then, any osprey sighting in Switzerland or along the Doubs is always welcome!