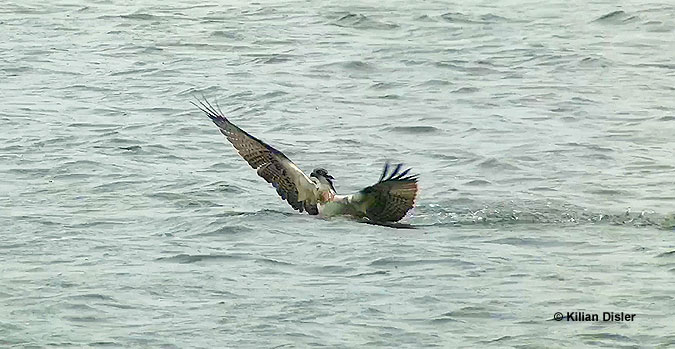 After weeks of care and lots of chopped fish served in our specially-designed aviaries, the first Ospreys to be released this summer (on July 23 and July 27) have started to make short trips "away from home", to learn more about their surroundings and to prepare for migration. Since our birds are equipped with a small radio transmitter, we know when they are flying further afield, but we don't always know where they go. However, for the most part they are visiting the lakes of Morat, Neuchâtel (Fanel and the Chablais de Cudrefin) or Bienne (Hagneck and Ile St Pierre).
On August 13 we had a nice surprise when Kilian Disler filmed "Georges" (identified by a blue ring marked F03 on his right leg) in the Fanel nature reserve, and even got shots of him diving into the water. See his beautiful video of Georges, 21 days after his release, here. On August 8 Sonja Portenier had already photographed "Nuage" (blue ring F01) at the Chablais de Cudrefin, 16 days after her first flight. Thank you Kilian and Sonja for this precious information!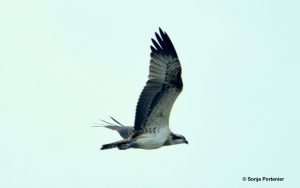 If you see an Osprey with a blue ring on the right leg, many thanks for telling us the date, place and time of your observation. However, please don't disturb the birds by approaching too closely (no less than 300m). It is much better to observe them from a good distance with a telescope or binoculars, rather than trying to get too close.