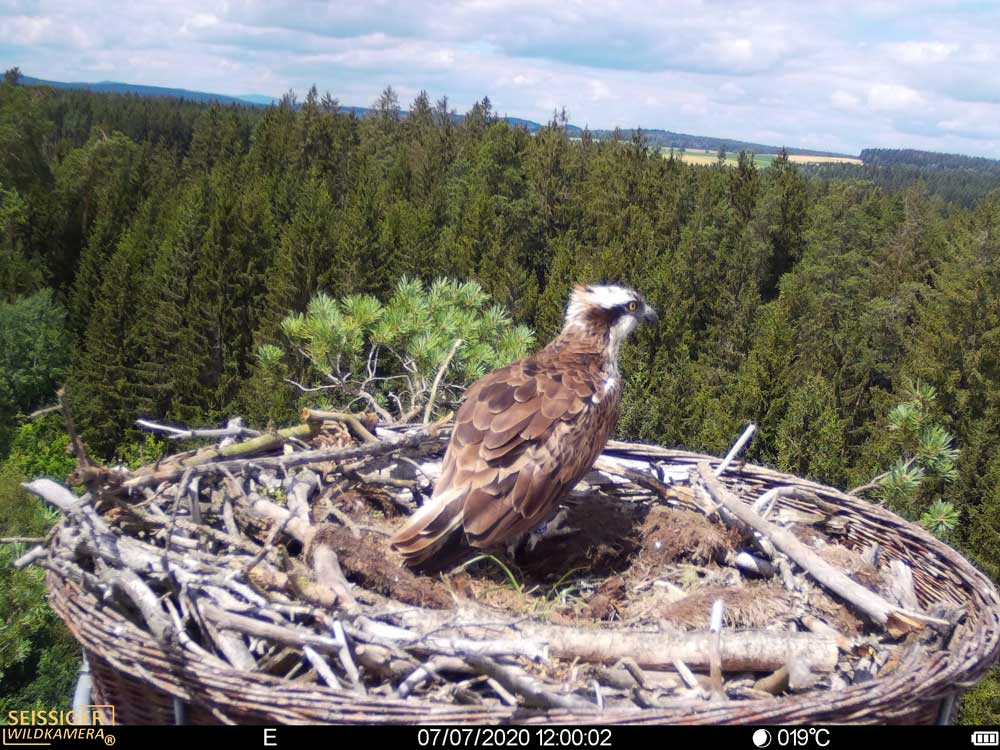 We have received good news about Plume (F02), a female born in 2018 in the German province of Sachsen-Anhalt and translocated to Switzerland, where she was released on 23 July and migrated on 2 September. She was immortalised on July 7 thanks to a photo-trap on a nest platform built by Daniel Schmidt in north-east Bavaria. Photos provided by Forester Matthias Gibhardt are the first proof that she has returned to Europe.
However, Plume did not come back to where she first fledged, but found a breeding population elsewhere, which is fairly typical for females of this species. Mouche (PR4) already did the same thing, joining a small breeding population in Moselle some 200 km away from Bellechasse. Plume has returned further afield, almost 500 km away from her release site (and 200 km from the place where she was born).
For males on the other hand, all three "Swiss" returnees identified so far (Fusée PR9; Taurus PS7 and Arthur F12) came back to the Three Lakes region where they had been released. Which means that of the six Bellechasse-reintroduced birds that have been seen again so far, at least one male and one female from each year have survived to migration : Fusée and Mouche from 2016, Taurus and Flamme KF6 from 2017, and now Arthur and Plume from 2018. While our current return rate of 16% is a little lower than the 20% noted for example by the Rutland Water reintroduction project in England (first of its kind in Europe), the 2020 season is not yet over, so we can still hope for some more good news. There has been at least one observation this spring of a blue-ringed Osprey in the Doubs Valley which seems to be another male returnee, but so far we are not sure about its identity.
Another encouraging sign is that there have been several observations of unringed females in western Switzerland during the first half of this summer, which is quite unusual for this time of the year. Fingers crossed that one of these females may meet up with one of our males!