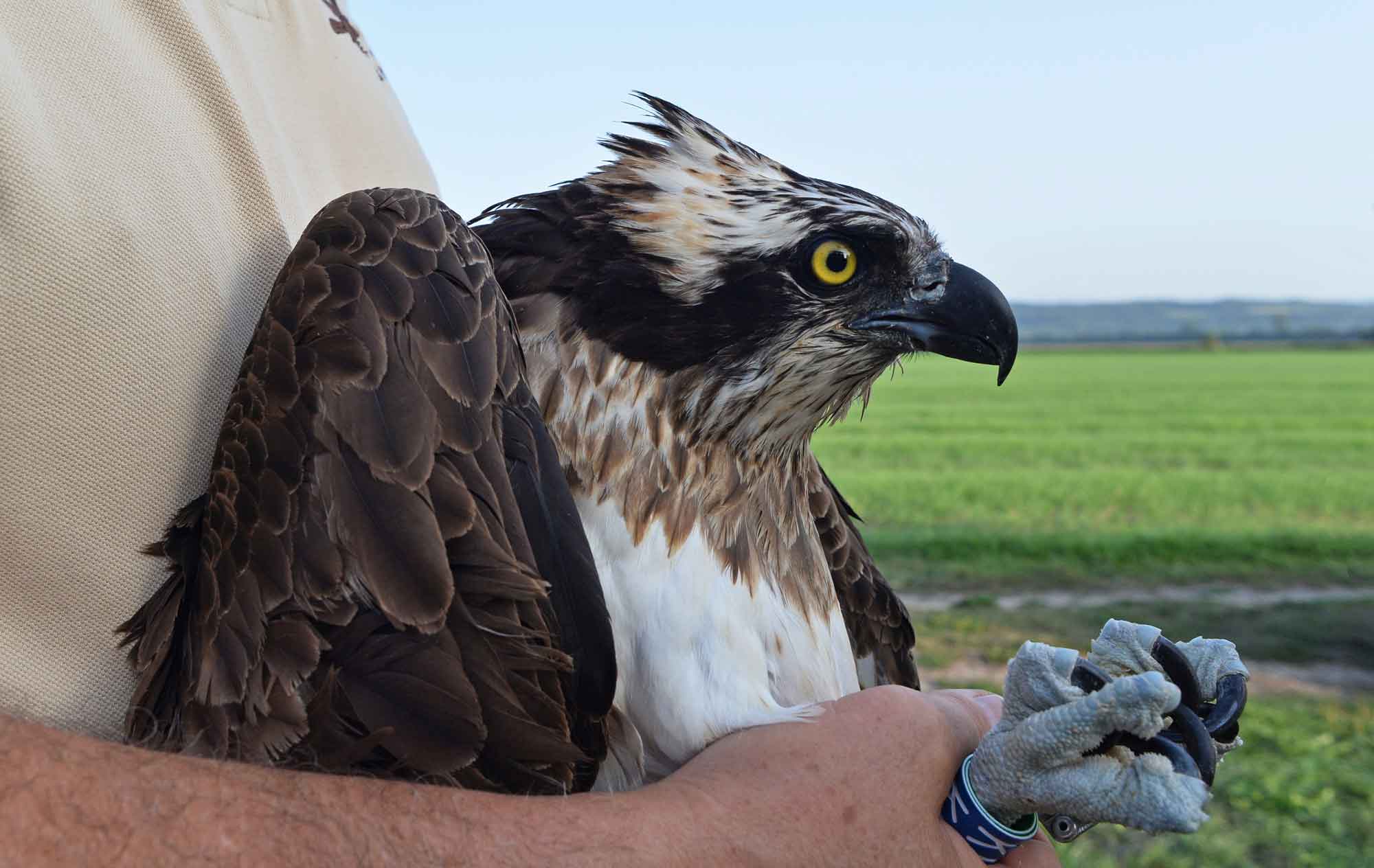 Late Saturday night on August 19 an exhausted and unringed adult female Osprey was found by the side of a road in Finstersee, in the Canton of Zug. She was brought to the Berg am Irchel Bird of Prey Sanctuary, managed by Andreas (Andi) Lischke. It was the first time since the Sanctuary was founded (in 1956) that an Osprey was brought in for treatment. Andi took the bird to the Zurich animal hospital where they gave her a thorough check-up for two days, but found nothing wrong although she seemed abnormally tame. She then stayed for a few more days in Berg am Irchel, but wouldn't eat by herself. Andi eventually decided to transfer her to the Nos Oiseaux reintroduction site, with the hope that seeing young birds flying around and feeding at our "fish restaurant" might stimulate her to feed and stay with them for a while.
On August 29 she was banded with a metal Sempach (Swiss Ornithological Station) ring on her left leg and a blue plastic ring marked KF7 on her right leg. Looking in good condition, she spent the afternoon in one of our cages, watching with obvious interest our young birds flying around and feeding on top of the aviaries. However, it was clear that she wanted her freedom back, so the decision was made to release her the next morning.
We opened her cage on August 30 at 6:05 am, just before it began to get light. At 6:30 she jumped onto the open door, and at 6:40 flew off directly towards the Lac de Neuchâtel. Delighted to see her fly again so well, we watched her until she was out of sight, disappearing in a south-westerly direction. We wish her all the best wherever she goes, and hope that next spring she will safely return to wherever she had come from!